Tim Cooke resignation from museums post is investigated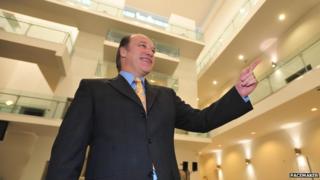 An investigation is taking place into the sudden resignation of the chief executive of Northern Ireland's museums, the BBC has established.
It follows "an allegation of a serious breach of procedure" involving Tim Cooke.
Mr Cooke departed from his £100,000 a year post with National Museums Northern Ireland (NMNI) in November after 11 years.
He said at the time that he had done so for personal reasons.
However, the Department of Culture, Arts and Leisure (DCAL) is now looking into the full circumstances.
"DCAL has commenced an investigation into the issues understood to be behind the resignation and this is ongoing," a statement read.
In a separate statement, NMNI said: "An internal investigation was being initiated following an allegation of a serious breach of procedure by Mr Cooke.
"As a result Mr Cooke resigned on 25 November. There will be no further comment at this time."
The BBC understands it relates to an application by Mr Cooke to go on a study programme in the United States.
No announcement has been made on his successor, but NMNI indicated it would make a stop-gap appointment before filling the position permanently.
Mr Cooke, who joined NMNI from BBC Northern Ireland, declined to comment.
However, he is thought to have provided NMNI with an explanation to what was alleged and told them his decision to leave was a personal one.
NMNI employs almost 300 people and is also responsible for several other attractions including the Ulster Folk and Transport Museum.