Belfast City Council events bid threatened by cost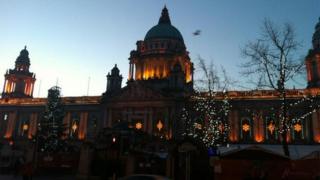 Belfast City Council bids to bring a number of international events to the city may be threatened due to the cost of local government reform.
The events include the All-Ireland Fleadh in 2020, the World Triathlon Grand Final in 2019 and the Commonwealth Youth Games in 2021.
No major international events are yet confirmed for the city from 2016-2021.
A council report states that there is currently "no budget available" to fund any international event bids.
The report was prepared for the council's development committee
Tourism strategy
In recent years Belfast has hosted the Giro D'Italia, the World Police and Fire Games and the MTV European Music Awards.
All of these events have received public funding from a number of government departments and agencies, including Belfast City Council.
As part of their events and tourism strategy, the council aims to bring at least one international event a year to Belfast.
In 2015, the Tall Ships races visit in July and the council is also competing to bring the BBC Sports Personality of the Year ceremony to the city.
The council has also compiled a draft programme of international events it would like to bring to the city in the years 2016 to 2021, and some initial discussions have already taken place with event organisers.
However, the council estimates it will have to pay £2.66m to bring the events to the city, out of total event costs of around £10m.
Council costs would include an estimated £500,000 each for the All-Ireland Fleadh, the World Triathlon Grand Final and the Commonwealth Youth Games.
The development committee report states that the council was previously able to access funding for event bids from its "allocated reserve budget".
However, the report states that "the current fiscal situation means that such finance is no longer available".
It also says that "there is currently no budget available to finance the projected £2.66m contribution".
Council sources have told the BBC that this is due to costs associated with local government reform.
The report says that one option is to use rates to meet the funding requirements, stating that committee members may "need to consider such funding as part of the rate-setting process".
Decisions on how to proceed are due to be discussed by the council in early 2015.