Nuala Gormley jailed over explosives in car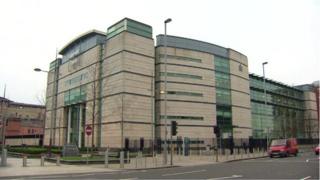 A woman who was caught with explosive substances in her car has been sent to jail for 18 months and put on the counter-terrorism register.
Nuala Gormley from Morgan Park, Dromore, County Tyrone, was arrested after police searched her car near Cookstown on 6 August 2013.
The judge at Belfast Crown Court told her the offences were so serious they warranted an immediate jail sentence.
But he said she had already served most of her prison term awaiting trial.
The 38-year-old was convicted last month of possessing items "for a purpose connected with the commission, preparation or instigation of an act of terrorism".
Potential to kill
Her trial had heard that explosive substances, two improvised remote control switching units, two aerials and a transmitter key fob, were uncovered in an oil container discovered in the boot of her car.
The judge told Gormley that while he accepted she did not know exactly what the items were, she had agreed to transport them from A to B.
These articles, he added, had the potential to cause death or damage to property.
Her defence barrister described Gormley as a "vulnerable" woman with both mental health and alcohol issues.
He told the judge she was "someone who has been used by another or others.... and was easy prey".
'Frequently drunk'
It also emerged during her trial that Gormley was known to be careless with her home security and possessions such as her car keys.
Her sister gave evidence to the trial, describing her as being frequently drunk.
Her brother-in-law spoke of an occasion he called at her house and discovered someone sleeping in her car.
Speaking after the sentencing, Det Supt Kevin Geddes welcomed the jail term.
"We believe these items were going to be used to cause death, injury or damage," the detective said.
"Police actions have removed that risk on this occasion. "
On release, she will spend a further 18 months on licence and her name will stay on the counter-terrorism register for 10 years.