Enda Dolan: Victim's family ask why crash barrier was removed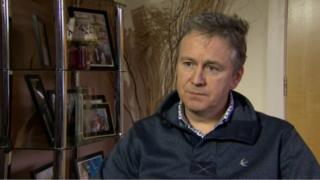 The father of a teenager who died after being knocked down has asked why a crash barrier at the scene had been removed weeks before and not replaced.
Enda Dolan, 18, from Tyrone was hit by a van eight weeks ago, as he walked back to his student accommodation at Queen's Elms on Belfast's Malone Road.
The barrier was erected in 1977 to protect pedestrians after two students died in a crash at the same location.
The Department for Regional Development has refused to answer questions.
The barrier was removed less than a month before Mr Dolan was killed on 15 October.
'Nightmare'
Two men were arrested and later released on police bail after the crash.
Residents living near the scene said the barrier would have saved his life.
Jim Beggs, who lives in nearby Sans Souci Park, said: "It's 95% certain that the youngster would still be alive. He would not have been hit. The barrier carried out a useful purpose.
"A number of vehicles actually had hit it and it was a bit battered. It was a bit ugly, but ugly or not, it could have saved the young fellow's life."
Mr Dolan was a talented musician and accomplished athlete from Killyclogher in Omagh, County Tyrone.
He was a first year architect student at Queen's University, Belfast.
His father, Peter Dolan, said: "As you can imagine it was every parent's nightmare.
"Getting the knock on the door at half past four in the morning and the police telling you that your son has been killed in a road traffic accident.
"It's just a nightmare and we are living that nightmare.
"He was a model son. He was very good to his family and a great son to have."
'Angry'
Mr Dolan said the authorities have serious questions to answer.
"Over 35 years ago, a barrier was erected there for a reason," he said.
"Just three to four weeks before our tragedy it was removed and there are a number of questions we, as parents, would have.
"We do feel angry because if you take something away that was there for a reason, really it should have been reinstated and that hurts us.
"It is just unbelievable to think that for a few pounds it could have been reinstated."
The Department for Regional Development's Road Service would not say why the barrier was taken away on 18 September.
A spokesperson said it would be inappropriate to comment because of an ongoing police investigation into the accident. They would not say if there were plans to replace the barrier.
SDLP councillor Declan Boyle has launched a petition to have the barrier reinstated.
He said: "There are thousands of students walking past that spot every day. It is imperative that the barrier is replaced."
'Concerned'
A newspaper report of the previous crash in 1977 said: "A crash barrier is to be erected at the bend on a Belfast road where two girl students died on Monday night... to prevent further serious accidents on the Malone Road at the Sans Souci Park junction. "
The report said the decision to erect the barrier "follows requests from residents and police who have been concerned about the number of serious accidents on this part of the road in recent years".
The brother of one of the two students killed in 1977 also asked questions about the barrier.
"Why was it removed, and if it had to be removed for some reason, why was it not replaced? " he asked.