Portadown: Object under soldier's car was not explosive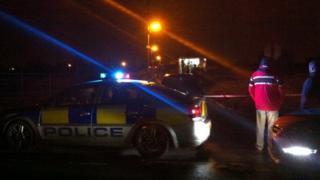 Police have said an object found under a serving soldier's car in County Armagh was not an explosive device.
The soldier discovered the object under her vehicle at Corbracky Road, Portadown, on Friday afternoon and called police.
Bomb disposal officers were called and a controlled explosion was carried out.
Police said on Saturday that the object had been accidentally left attached to the underside of the vehicle following a recent service.
In a statement, Supt Simon Walls said: "The object found under the car in Corbracky Road was categorically not an explosive device of any description."
Army Technical Officers (ATO) were called to examine a "suspicious object" on Corbracky Road on Friday afternoon.
Sources told the BBC they believed the object was a booby-trap bomb.
A controlled explosion was carried out at about 16:45 GMT and a police spokesman later confirmed the object was not explosive.
A number of residents who had to leave their homes during the alert were later allowed to return.