Bernie Smyth: Anti-abortion protester cautioned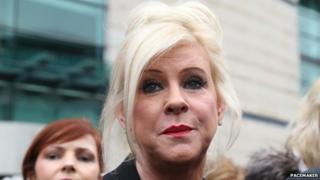 A woman convicted of harassing a Marie Stopes clinic director has been cautioned for breaching a court order.
Bernie Smyth, director of the anti-abortion group, Precious Life, was sentenced to 100 hours community service for harrassing Dawn Purvis.
She also received a five-year order restraining her from pestering Ms Purvis or anyone seeking to enter the clinic.
Ms Smyth was back protesting outside the Belfast clinic on Friday.
A police spokesperson later said: "This afternoon, Friday 19 December, a woman was cautioned in the Great Victoria Street area of south Belfast in relation to breaching a court order prohibiting harassment.
Following the sentencing earlier this week, Mrs Smyth's solicitor said the sentence was the subject of appeal and "has no affect in the meantime".
Under the terms of the restraining order, Mrs Smyth was excluded from going within 20 yards of the clinic on Belfast's Great Victoria Street.
The 52-year-old anti-abortion campaigner had denied harassing Ms Purvis, a former Northern Ireland Assembly member, on two dates earlier this year.
Anti-abortion campaigners have protested at the door of the Marie Stopes clinic since it opened in Belfast two years ago.
It is the first private organisation to offer early medical abortions in Northern Ireland, where the legislation regarding pregnancy termination is much more strict than in the rest of the UK.
A woman can only have an abortion if it can be proven that her life is at risk, or if there is a serious danger of permanent damage to her mental or physical health.