NI 1985/1986 state papers: Irish objected to London as 'imperial capital' venue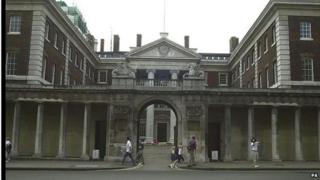 The Irish government did not want London as a venue for meetings under the Anglo-Irish Agreement, according to declassified files.
London was considered the "old imperial capital" it has emerged.
The reluctance emerged in papers about an intergovernmental conference meeting on 29 July 1986, called by the Irish Minister for Foreign Affairs.
It followed a police decision to allow an Orange march in Portadown on 12 July that was followed by serious rioting.
In a note to Secretary of State Tom King, dated 23 July 1986, Mark Elliott of the Northern Ireland Office (NIO) reported that, in response to an invitation from Mr King to a dinner in London, Irish Minister for Foreign Affairs Peter Barry had indicated that "as to the location, he preferred Dublin, with Belfast as second best".
Mr Elliott reported a conversation with Michael Lillis of the Irish Department of Foreign Affairs, who had made it clear to the NIO official that Mr Barry's objection to a meeting in London was "extremely firm" while the Irish official had set out "the familiar Irish political arguments for disliking meetings in London".
Mr Elliott told the secretary of state: "In essence, they relate to the Irish perception of London as the old 'imperial' capital; the sensitivity which they feel about coming, as it were, to pay homage to the British government; Mr Barry's sense of his own dignity as a foreign minister... and the Irish view of events in Portadown [on 12 July]."
Mr Lillis had proposed "as his own idea" that the event should be regarded as a special meeting of the conference, called at the Irish government's request.
This, Mr Elliott told Mr King, "would give the Irish something in that they would be seen to have brought about the meeting, even though it was being held in London".
In the event, the meeting was held in Mr King's office in London on 29 July, followed by a move to Mr King's flat in Admiralty House for dinner.
According to the press release afterwards, "the conference considered a number of recent sectarian outrages and called on the entire community to stand firmly against those who carried out such attacks and to co-operate fully with the security forces".
"Both joint chairmen reaffirmed their commitment to the Anglo-Irish Agreement and declared their intention of pressing forward with its implementation."