Gerry Adams says prime minister's intervention was not 'serious effort'
By Mark Devenport
BBC News NI Political Editor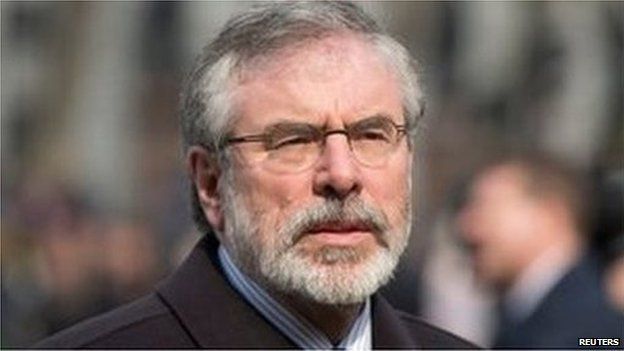 Writing on his blog, Mr Adams says David Cameron and Enda Kenny left the political process "in a worse state than when they came".
He also described the two prime ministers as "the architects to the talks debacle".
The talks resumed on Thursday morning.
The five main parties are at Stormont House to try and find agreement over finance, welfare reform and other unresolved issues.
Mr Adams said Martin McGuinness and Sinn Féin's negotiators are working hard to find solutions, but Secretary of State Theresa Villiers "has stuck to the script which blames the north's parties for the crisis".
Mr Adams said that without a "different economic and fiscal model" the political process would not work.
There is no sign of the parties bridging their differences over the budget and welfare reform.
It is unclear whether the discussions will end on Thursday or continue on Friday.
However, the Commons is due to break for its Christmas recess at around 17:00 GMT.
At the weekend, Theresa Villiers told the BBC that the devolution of corporation tax could be difficult to pass before the May general election if a deal was not reached before the parliamentary recess.
Ms Villiers told the Sunday Politics "what happens at the end of a parliament is, essentially, there is a wash-up stage where government and opposition discuss what can be speeded through so that it's done before dissolution takes place".
Ms Villiers continued: "It's not completely impossible that corporation tax could still be achieved in this parliament, with a later introduction after this week, but it becomes increasingly difficult."
Previously, the government has warned that if there was no deal before Christmas, there would be little chance of making progress in the new year.
Discussions between the parties lasted until nearly 22:00 GMT on Wednesday.
However, there appeared to be little evidence of progress on the key financial issues.
The Ulster Unionists submitted a 24-point paper looking for some more welfare reform flexibilities.
But Sinn Féin apparently stuck rigidly to its own 11-point paper that essentially rejects all the proposed Westminster welfare changes.
Some negotiators told the BBC that they privately believe the talks could be winding to a close.
They added that no deal could spell major problems for Stormont's future budgetary process and the stability of Northern Ireland's power-sharing executive.