NI talks resume amid little progress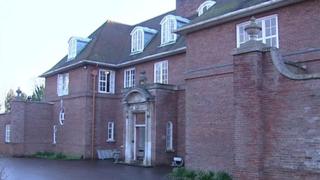 Cross-party talks have resumed at Stormont, with few signs of the parties resolving their differences over budget and welfare reform.
Some of the negotiators have said they believe Thursday's discussions could be the last before Christmas.
Previously, the government had warned that if there was no deal before Christmas, there would be little chance of making progress in the new year.
Discussions between the parties lasted until nearly 22:00 GMT on Wednesday.
However, there appeared to be little evidence of progress on the key financial issues.
'Major problems'
The Ulster Unionists submitted a 24-point paper looking for some more welfare reform flexibilities.
But Sinn Féin apparently stuck rigidly to its own 11-point paper that essentially rejects all the proposed Westminster welfare changes.
In an interview on BBC NI's Good Morning Ulster on Thursday, Sinn Féin's John O'Dowd said "a significant amount of work" had yet to be done and the government needed to play its part.
"The only resolution on welfare would be a change of attitude from the British government," he said.
"The catalyst to what they are calling welfare reform has been billions of pounds of cuts.
"We are dealing with the cuts to welfare. These are attacking the most vulnerable in our society. If a peace process boils down to taking money from the sick, disabled and unemployed. Then I ask myself what has the past 20 years been about."
'Special circumstances'
DUP MP Jeffrey Donaldson said the parties had to be realistic about the amount of money available to the Northern Ireland Executive.
"We recognise there are special circumstances that apply in Northern Ireland and we're trying to take account of that, but we also have to be realistic," he said.
"We have to be realistic about what we're likely to get from Westminster and then, we've got to make our budget so that we're able to manage our finances, cover our public services and ensure that the most vulnerable are protected."
Ulster Unionist leader Mike Nesbitt called for a "seismic shift in realistic thinking" from some of the parties around the table.
"Everybody wants to protect the most vulnerable, but some people won't get real and acknowledge we won't get it from London, we have to take it out of the block grant," he said.
"If we don't balance the budget there is no point in anything else - you have to get the budget right first."
The SDLP's Alex Attwood said there were "two keys" that could unlock the negotiations and produce a positive outcome.
"The first is the parties have a big responsibility to once and for all deal with the past, parades, the Irish language, the bill of rights and many other matters," he said.
Seize the moment
"The other key is that I think David Cameron now needs some time to think, not to fly in and fly out, but to reflect upon these negotiations and how he needs to measure up in terms of recognising that the transition from where we were as a society in Northern Ireland to where we need to go is going to take longer than we had hoped and that that requires financial underpinning, both in budget and welfare terms."
The Alliance Party's employment minister Stephen Farry said the parties had to "seize this moment".
"The parties have been focusing intensively in meetings over the past number of weeks and that has intensified over the past number of days, but this does need to be brought to a close and, indeed, a productive close," he said.
"We do have to appreciate what is at stake here and it is the future of devolution itself. If things are not got right, things are in real jeopardy."
The parties are expected to resume discussions at about 10:00 GMT on Thursday.
But some negotiators told the BBC that they privately believe the talks could be winding to a close.
They added that no deal could spell major problems for Stormont's future budgetary process and the stability of Northern Ireland's power-sharing executive.