Historical Institutional Abuse Inquiry tribute to witnesses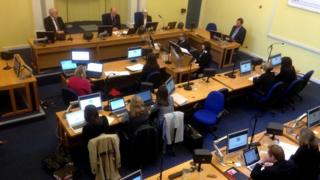 The chairman of the Historical Institutional Abuse Inquiry (HIA) has paid tribute to almost 100 former child residents of care homes.
The inquiry has now completed its first year of public hearings into institutional abuse.
During that time, it has heard from 98 victims and survivors of abuse.
Most of them were in the care of the Catholic Church at homes in Londonderry and Kircubbin in County Down.
The homes were: St Joseph's Home, Termonbacca, Derry; Nazareth House Children's Home, Derry and De La Salle Boys' Home, Rubane House, Kircubbin.
Others were part of a state approved child migrant scheme to Australia.
At the conclusion of the first year of hearings, Sir Anthony Harte said the victims and survivors had performed "the absolutely vital and fundamental burden of describing to the inquiry their experiences of the various institutions we have so far looked at".
The HIA inquiry was set up in 2013 to investigate child abuse in residential institutions in Northern Ireland over a 73-year period, up to 1995.
A total of 13 Northern Ireland institutions are being investigated.
There have been 80 days of public hearings.
They will resume in January when they will focus on the former Nazareth House and Nazareth Lodge in Belfast.