Northern Ireland unemployment continues to fall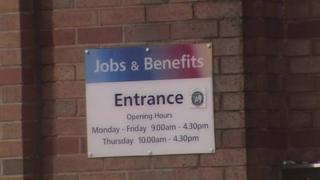 Unemployment continued to fall in Northern Ireland in November, according to the latest official figures.
The number of people claiming unemployment benefit was down by 700 to 51,200.
That is the 23rd fall in a row and over the last year the number of people on the benefit is down by nearly 9,000.
The unemployment rate also fell by 0.3 percentage points during the period from August to October 2014.
It is measured using the Labour Force Survey and now stands at 6.3%, just above the UK average of 6%.
The performance of the labour market has been the clearest sign of recovery in the Northern Ireland economy.
However, it is still lagging behind the UK as whole - the latest monthly decrease in Northern Ireland claimants at 1.3% was lower than the UK decrease of 2.9%.
Over the year, the Northern Ireland claimant count has decreased by 14.7% compared to a decrease of 29% in the UK.
The annual decrease in Northern Ireland was also the lowest of the 12 UK regions.
Enterprise Minister Arlene Foster said Wednesday's figures show "positive signs across a number of key labour market indicators".
"Both the unemployment rate and the number of unemployment benefit claimants have decreased over the quarter and the year," she said.
"In addition, the number of employee jobs continues to increase, representing the 10th consecutive quarterly increase in this measure."