UK casino operator proposes opening larger Belfast venue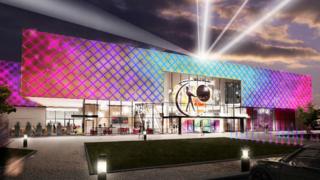 A UK casino operator is proposing a bigger venture - with 400 new jobs - if allowed to open in Belfast.
The Rank Group held further talks with city councillors as it lobbies for a change in the law.
Councillors took no decision and Social Development Minister Mervyn Storey, of the DUP, is against the idea.
Rank met with Belfast City Council on Tuesday night, providing more detail on what would be a first for Northern Ireland, where casinos are banned.
The company was following up a presentation on its £18m proposal outlined in September.
Richard Needham, non-executive director of the Rank Organisation, said the current state of gambling in Northern Ireland was "chaotic".
"A lot of it is illegal," he said.
In fact, the government doesn't even know and has admitted it doesn't know the extent of the number of fixed odds betting terminals it has.
"All the evidence goes to show when you have a well-regulated, properly-run entertainment leisure complex like this, it's much easier to deal with problem gambling than leaving it to slot machines where you can lose thousands of pounds."
The Rank Group has not identified a site - but is looking at the city centre and Titanic Quarter - although it told them its proposed venture would deliver twice as many jobs as first stated.
It also discussed providing £80,000 annually to the Dunlewey Addiction Services, a charity which helps gambling addicts.
Addiction
In a statement, the charity said: "We see no issue with casinos providing they have robust protections systems in place that will protect those individuals who are at risk of problematic gambling."
The main purpose of Tuesday's talks was to address concerns surrounding gambling addiction.
DUP councillor Brian Kingston said he was concerned about problem gambling.
"We know that there are other forms of gambling and people obviously enjoy a flutter on the horses or on the lottery and so on, but the scale of gambling in casinos can be frightening," he said.
"People can lose tens of thousands of pounds in seconds."
Alliance councillor Tom Ekin said he was supportive of the project "in principle".
Special dispensation
"The devil is in the detail and we need to see what is ultimately proposed, but in principle I have no problem with it, in fact, I think that if it could be got right and designed correctly and presented correctly, we could have a great asset to Belfast."
Rank - which runs 55 casinos in Britain - hopes to convince the council to seek special dispensation from the Northern Ireland Assembly to grant a gambling licence permitting a casino.
It recently met with Social Development Minister Mervyn Storey, who is due to send new gambling legislation to the assembly next year that would maintain the ban on casinos.
In a statement to the BBC he said: "In December 2012, the Northern Ireland Executive agreed that the current law on casinos should remain unchanged for the present.
"I see no compelling reason to revisit this issue at this time."