Stormont draft budget 'does not really balance' - PwC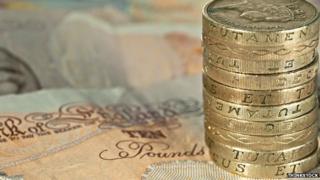 Stormont's draft budget for 2015/16 "does not really balance" and fails to provide for fundamental reform, a financial consultancy has said.
PricewaterhouseCoopers (PwC) said it was concerning that the budget was brought forward before Programme for Government targets were agreed.
The draft budget was agreed in October and is to be finalised in the new year.
However, the Department of Finance said the report "lacked understanding" of the complexities of public expenditure.
PwC said it was welcome that a budget had been agreed, as the alternatives included a return to direct rule.
'Pace of austerity'
The firm said that the real term cut in day-to-day spending in 2015/16 would amount to 3.5%.
This compares to a cut of 7% across the four years ending in 2014/15.
PwC said it was an illustration of how the "pace of austerity" was accelerating.
The firm said one of the important issues to arise from the draft budget included the large cut to the Department for Employment and Learning (DEL).
It questioned what the rationale was for the much larger cut to DEL compared to the Department of Education.
It concluded that the reduced budget for DEL would hit the current "successful apprentice and skills development programmes".
Downbeat
It described as a "serious omission" the lack of discussion in the budget on how Stormont might deal with future welfare reform penalties.
The budget does include a £70m provision "to mitigate the impact of welfare reform", but that assumes that a deal is done on the issue.
PwC has also given a downbeat assessment of the prospects for the Northern Ireland economy.
The firm stated that recent growth had been driven by household consumption, but it said this situation could not be sustained as wage growth remained weak and savings were eroded.
It added that the "disproportionately small" private sector could not compensate for the decline in public sector expenditure and jobs.
A spokesperson for the Department of Finance said: "PwC's report lacks any worthwhile insight or understanding of the complexities of public expenditure.
"The report's commentary on the draft budget shows a deficit in depth of knowledge and analysis.
"It states that the draft budget is 'not really balanced' but it fails to provide evidence for such a statement. There is no over commitment or running deficits in the draft budget so how do PwC determine an imbalance?"
It said a draft budget was necessary to move the budget process forward in line with the legislative requirements.