Fred McClenaghan sentenced for Marion Millican murder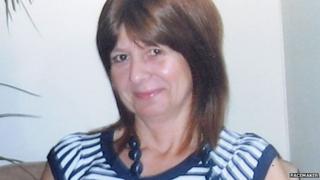 A 52-year-old County Londonderry man found guilty of murdering his ex-girlfriend has been jailed for 16 years.
Fred McClenaghan, of Broad Street, Magherafelt, was convicted of killing Marion Millican at the laundrette where she worked in Portstewart.
It was the second time McClenaghan was convicted of murdering the mother-of-four in March 2011.
His original conviction was quashed on a technicality and a retrial ordered.
McClenaghan had claimed he intended to take his own life in front of her but that his antique double-barrelled shotgun went off accidentally during a struggle.
He was arrested within hours of the shooting and has now spent the last four years and nine months in jail.
The trial heard their relationship was characterised by violence.
Mr Justice Treacy told McClenaghan on Tuesday that while he would receive no remission on the term, his sentence will date from the day he shot his former lover.
He acknowledged the hurt that the Millican family had suffered at the hands of McClenaghan and the impact it has had on their lives.
He told the court that he had "carefully read and considered these moving personal accounts which bear testimony to the love and affection of the Millican family and the irreversible and devastating loss caused by the murder of Marion".
The judge said Marion Millican was "taken by surprise at her place of work and immediately confronted by the armed defendant".
'Very disappointed'
He added: "She had no means of escape and was subjected to a terrifying ordeal which involved the initial discharge of the weapon, designed to terrify and subdue her and her work colleague.
"The severe injury to her chest, caused by the second shotgun discharge, was responsible for her death".
When first sentenced in September 2012, the original trial judge also imposed the same minimum term.
Mrs Millican's daughter, Suzanne Davis, said the family felt "very disappointed" at the sentence, as they left Belfast's Laganside courthouse.