Stormont opposition plans outlined to Northern Ireland parties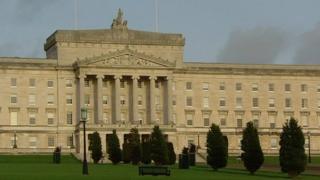 Arrangements for a Stormont opposition could be put in place as early as March 2015, according to the government paper given to the parties last week.
The paper proposes that parties "which would be entitled to ministerial positions in the executive, but choose not to take them up" should be "recognised as an official opposition".
They would receive financial and research assistance.
This would be taken from within the existing assembly budget.
The new opposition would also get "designated speaking rights including the opportunity to ask questions and table business" in the assembly chamber.
The move towards an opposition is one of a number of institutional changes suggested in the Heads of Agreement paper circulated by the UK and Irish governments the night before David Cameron and Enda Kenny left the Stormont House summit.
You can read more on this story here.