Padraic Wilson denies IRA membership charge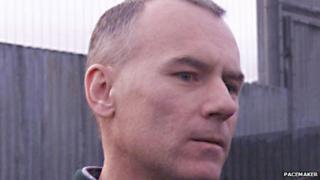 A west Belfast man has denied charges of addressing meetings on behalf of the IRA and belonging to the terror group.
The case against Padraic Conner Wilson, 55, from Hamill Park, Andersonstown, will be reviewed in the new year.
Mr Wilson pleaded not guilty to four charges at his arraignment before Belfast Crown Court on Tuesday.
It was alleged that the two sets of charges were committed on differing dates from 1 January to 31 March, 2005.
Two of the charges accused him of having "addressed a meeting and the purpose of his address was to encourage support for a proscribed organisation, namely, the Irish Republican Army, or to further its activities''.
The other two charges alleged that at the time he was either a member of the IRA, or professed to be a member of the proscribed organisation.
No details surrounding the charges were given to the court during the short hearing.