NI talks: David Cameron criticised by Peter Hain and Paul Murphy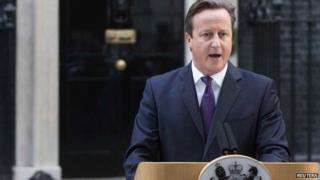 Two former Northern Ireland Secretaries of State have expressed concern about the prime minister's handling of last week's political talks in Belfast.
Peter Hain told the House of Commons he was astonished that David Cameron had left the talks as soon as he did.
Paul Murphy advised the current Secretary of State Theresa Villiers to persuade Mr Cameron to return to Northern Ireland quickly.
She defended the prime minister and said he had not walked away.
She said Mr Cameron followed the process with the greatest attention because he cares about Northern Ireland and wants to see a successful conclusion.
Ms Villiers said the prime minister and his Irish counterpart Enda Kenny had made an assessment there was no chance of a deal on Friday, because some of the parties were not prepared to move on key issues, and that in particular Sinn Féin would not move on welfare reform.
Mr Hain said Mr Cameron risked leaving "political paralysis", which could be extremely damaging.
Mr Murphy wondered "how on earth the prime minister could come to the view there is no realistic way of coming to a consensus after just 24 hours".
'Stakes are high'
He contrasted Mr Cameron's attitude with the approach of previous prime ministers who had spent "weeks, months and even years" building a consensus.
Ms Villiers told the House of Commons the "stakes are high" when political talks resume this week.
She said all the parties involved agreed a failure to secure an agreement before Christmas would threaten the chances of such a deal for months or even years.
Ms Villiers said the Northern Ireland executive would increasingly be left unable to conduct day-to-day business effectively if a balanced budget was not agreed.
"This week is crucial," she said. All of us have the responsibility to do whatever we can in the few days left to us.
"The UK government has shown it can compromise even over hugely sensitive and difficult issues regarding Northern Ireland's past, and even when resources are constrained by the pressing need to deal with the deficit.
"We'll continue to do all we can to deliver agreement within the financial constraints in which we're operating.
"But the UK and Irish governments can only do so much. Ultimately whether an overall agreement is reached is down to Northern Ireland's political leaders."
Earlier, Northern Ireland's first minister Peter Robinson said the prime minister had indicated that he could improve his financial offer to the Stormont executive but not significantly.
Mr Robinson said he briefly discussed the financial package offered by David Cameron at last week's talks.
The first minister and Deputy First Minister Martin McGuinness were in London for a meeting of the joint ministerial committee.