First minister says PM could improve financial package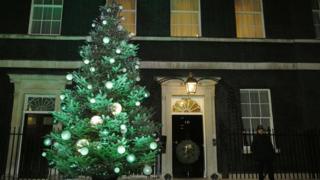 Northern Ireland's first minister has said the prime minister has indicated that he could improve his financial offer to the Stormont executive but not significantly.
Peter Robinson said he briefly discussed the financial package offered by David Cameron at last week's talks.
Political leaders held a meeting in Downing Street on Monday.
Mr Robinson said it was up to the local parties to agree a common approach to welfare reform.
The first minister and Deputy First Minister Martin McGuinness were in London for a meeting of the joint ministerial committee.
Scottish First Minister Nicola Sturgeon and Welsh First Minister Carwyn Jones also attended the meeting.
Speaking afterwards, Mr McGuinness said all the main Stormont parties had rejected Mr Cameron's financial package, and that last week the prime minister had either been "negotiating tough, or not listening".
He said a strong case had been made for extra funding.
'Ceding authority'
Mr McGuinness said the five executive parties were "singing off the same hymn sheet".
He added that unless a deal on outstanding issues such as welfare reform, finance and the past was made in the coming days, the chances of a deal after Christmas "were very remote".
Meanwhile, Finance Minister Simon Hamilton has indicated there is the possibility that civil servants could take on responsibilities for the budget in Northern Ireland, if the political parties could not reach agreement.
"None of us here want to get to that position, because that is ceding authority on something we are elected to do," he said.
He again stressed that there needed to be agreement among the Northern Ireland parties on welfare reform if they were to see what the prime minister's bottom line was on a financial package.
Talks involving the parties are to continue on Tuesday, and the British and Irish governments are expected to join discussions on Wednesday and Thursday of this week.