Mary McAleese: Ex-president to teach Irish studies at UK university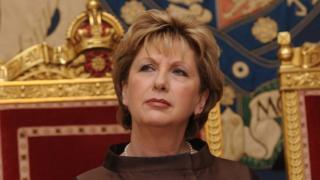 Former Irish president Mary McAleese is to take up an academic post at the UK's largest Catholic university.
She has been appointed as professor in Irish Studies at St Mary's University, Twickenham, London, and will take up her role in the 2015/16 academic year.
Dr McAleese, who born in Belfast, served two terms as president of Ireland, from 1997 to 2011.
She hosted the Queen's state visit to the Republic of Ireland in May 2011 - a turning point in Anglo-Irish relations.
'Major role'
The Queen was the first UK monarch to undertake an Irish state visit in 100 years, and the first since the Republic of Ireland gained independence from British rule.
Dr McAleese was instrumental in the negotiations that led up to the official trip, which was widely hailed as a diplomatic triumph.
St Mary's University said its newest recruit has "played a major role in the Northern Irish peace process".
In her new academic post, Dr McAleese will teach part of St Mary's MA Irish Studies programme, in particular a series of seminars called New Perspectives on Irish History.
The university said she would also "give a keynote conference lecture and take part in a programme of public conversations during her period of appointment".
'Close relations'
In a statement, Dr McAleese said she was "delighted to join St Mary's".
"I particularly look forward to working closely with the excellent team at its Centre for Irish Studies as it researches the continuing development of Anglo-Irish relations.
"St Mary's, which has been a focus of Irish life in Britain for 165 years, has an important role to play in this work as we look to the next 100 years of close relations between our two countries," she added.
Dr McAleese was the first president of Ireland to come from Northern Ireland.
Born in Ardoyne, north Belfast in 1951, she studied law at Queen's University, Belfast, (QUB) and later trained as a barrister.
She has previously held academic posts at QUB, Trinity College, Dublin, and Boston College.
Dr McAleese is currently completing a doctorate in Canon Law at Pontifical Gregorian University, Rome.