Dale Farm: £40m project 'on hold' over lack of energy infrastructure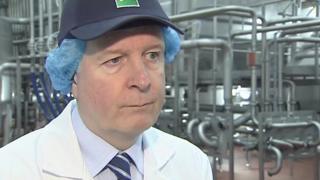 A £40m investment is on hold because of delays in getting energy infrastructure to the west of Northern Ireland, a leading businessman has said.
David Dobbin, chief executive of Dale Farm, said his firm wanted to expand its plant at Cookstown, County Tyrone.
He said planning had been approved but the correct electricity and gas facilities were not in place.
He told the BBC's Inside Business show it was "frustrating" to be told to move the project east of the river Bann.
'Not enough capacity'
"We want to put a £40m investment into Cookstown. We've got Invest NI support, we've government support, we've got our planning - we can't go," Mr Dobbin told the programme.
"We're waiting now until gas comes, because the electricity [suppliers] can't help us."
He said there was "not enough capacity in the grid to allow us to take more electricity".
Dale Farm is Northern Ireland's largest dairy business.
The company produces and sells a wide range of dairy products throughout the UK and Ireland as well as exporting to more than 45 other countries worldwide.
'Valuable jobs'
Its goods include milk, cream, cheese, butter, dairy spreads, yogurts and desserts.
Mr Dobbin claimed Northern Ireland Electricity had suggested moving the Cookstown project to Ballymena, County Antrim, because there was "plenty of power there".
"So that's saying 'move your investment from west of the [river] Bann to the east because that's where our generators and that's where our grid is'," Mr Dobbin said.
"Economically we want to develop the west of the province and we're there already and we're creating valuable jobs, so it's frustrating for us."
'Compare the bills'
Mr Dobbin said Dale Farm was the fifth largest consumer of energy in Northern Ireland's private sector.
The firm operates five plants in Northern Ireland and a further three in Great Britain.
"We use lots of electricity, gas and oil, and if I compare the bills that we have for our five plants here, versus our three plants in Great Britain - one in Scotland, [one in] England and one in Wales - virtually all three of them are about 25 to 28% lower in electricity and they've got lower gas costs as well."
Dale Farm is part of the United Dairy Farmers Group, a UK dairy farmer co-operative.
A NIE spokesperson said: "Northern Ireland Electricity invests on an ongoing basis in the electricity network across Northern Ireland, as demand levels gradually rise.
"In cases where large customers, such as manufacturing plants need to increase the capacity of their electricity connection, more significant reinforcement of the network may be required.
"The costs associated with this type of reinforcement lie with the individual business and, depending on the demand and capacity of the local electricity network, these costs can be considerable."