Ronan Keating asked to star in film version of Stones in His Pockets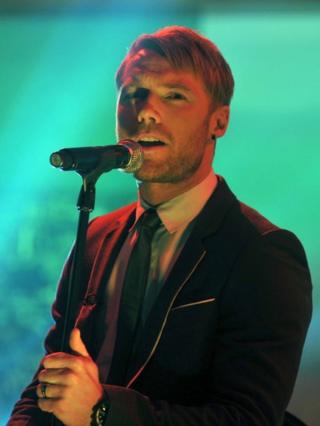 Pop singer Ronan Keating has been asked to star in a film version of the hit Broadway play, Stones in His Pockets.
Keating, who rose to fame with the Irish boyband Boyzone, told BBC Radio 2 he has already "signed up" for one of the two leading roles.
Speaking on the Graham Norton Show, he said he hoped funding could be secured to bring the play to the big screen.
Stones in His Pockets, written by Belfast playwright Marie Jones in 1996, was nominated for three Tony awards.
The tragicomedy tells the story of two friends who get roles as extras in a Hollywood film which is being made in their rural home town in the Republic of Ireland.
'Very exciting'
It was first performed at the west Belfast festival in August 1996 before moving to London's West End and then on to New York's theatre district.
In 2001, the Broadway production was nominated for three Tony awards for actors Conleth Hill, Seán Campion and director Ian McElhinney, who is married to the playwright.
Keating told the Graham Norton Show: "Stones in His Pockets is something I've been signed up to do. Ian McElhinney and Marie Jones - Marie who wrote it - they've asked me to play the lead with Conleth Hill.
"So Conleth and I are due to make the film, but we're still trying to get that final funding together and when we get that in we're green-lit and ready to go, which is very exciting because I love the play."
Keating made his name in the music business as a teenager in the mid-1990s when he joined Boyzone, a pop band put together in Dublin by X-Factor judge Louis Walsh.
Now 37, he recently made his West End debut with a lead role in the musical Once, a stage version of the 2007 film.
He plays a struggling busker on Dublin's Grafton Street who is considering giving up his musical career.
'Incredible story'
Speaking about the stage role, Keating said: "I've been trying to get into acting for many years and this felt like very natural kind of progression."
However, he told Graham Norton his film debut was still in doubt.
"I've been offered things - you get it, you say you're doing it and then all of a sudden it doesn't happen. It's a really weird thing, movies, I've never known anything like it," Keating said.
He described the film script for Stones in His Pockets as "an incredible story".
"What Marie and Ian have done is incredible, so fingers crossed we get that over the line and that'll happen next year," he said.