Belfast Christmas Market: Leftover food collected for homeless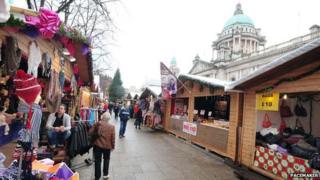 Traders at the Belfast Christmas Market have been urged to donate leftover food to the homeless in an initiative set up by a food blogger.
Vivek Tohani, who writes a blog under the name Belfastfoodman, got the idea after asking stall holders what became of unsold food at the end of the day.
On hearing it was binned, he asked the authorities if it could be donated.
Mr Tohani then made contact with the SOS NI charity, which has agreed to collect and distribute the leftovers.
The Christmas Market has become a popular annual attraction in the grounds of Belfast City Hall but is only open for a few weeks a year.
'Crazy'
Writing on his blog, he said: "I along with a few other blogging friends did want to help over the Christmas period, but I thought why not help the needy and less fortunate now, between today and when the market closes on 21 December."
Mr Tohani described the practice of disposing of edible, leftover food when people nearby were going hungry as "crazy".
However, he said it was a challenge to get stall holders and charities on board with his idea at very short notice.
The SOS NI charity provides a night-time support service in Belfast, in the form of its SOS buses.
Its volunteers provide help, advice, hot drinks and medical intervention for vulnerable people who are on the streets during the early hours of the morning.
Their services users can often include homeless people and drunk revellers who are in need of assistance.
'Tonnes wasted'
However, SOS NI also runs an existing food programme, through which volunteers collect retailers' surplus food stocks and re-distribute the goods to homeless shelters and refugee centres across Belfast.
The charity said on its website that about 3.9m tonnes of food is "wasted each year by the food and drink industry".
SOS NI's founder and chief executive Joe Hyland said although they already work with stores to redirect leftovers and prevent food going to waste, Mr Tohani "deserved all the credit" for getting Christmas Market retailers on board.
Mr Tohani started his Belfast food blog "as a hobby" a year ago this month.
He has had a lifelong interest in food and grew up in the industry - his family used to run a restaurant on Belfast's Lisburn Road.
His parents are originally from India, but moved to Northern Ireland shortly before his birth in 1972.
As a teenager, he worked in his family's restaurant before going to university.
'Safety concerns'
The blogger said he has always been fascinated by how food is sourced, produced, presented and its potential health benefits.
Mr Tohani said not all market stall holders were willing to take part in the leftover donation scheme but said he understood some would have health and safety concerns.
Mr Hyland said companies had a reputation to protect when they got involved in food donation initiatives, but he called for a Good Samaritan law that would prevent retailers from being sued if anyone became ill as result of eating donated leftovers.
He said the donations from the market were modest so far but it was good food and "every little bit would help" in the bid to address Belfast's "growing" homelessness problem.
The charity founder has been working on the streets of Belfast since 2007 and said an increasing number of people from ethnic minority backgrounds were ending up homeless in Northern Ireland with little or no financial support.