Northern Ireland free school bus review published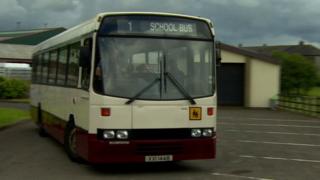 A review of home to school transport has recommended that free buses or taxis should only be provided to pupils' nearest school.
That would be regardless of whether the school is Catholic, controlled, secondary or grammar.
However, Irish medium and integrated schools would not be restricted.
Currently children get free transport if their home is more than two miles from their primary school or three miles form their post primary school.
Although parents will still be able to choose the type of school they want, they would no longer have the transport from home paid for.
The minister for education has welcomed the report and said he will consult on what to do next.
The government currently spends around £100m a year on school transport.
Thirty per cent of pupils have their journey paid for because of the distance they live from the nearest suitable school.
Some journeys are inevitable but the report's authors said if all pupils went to their nearest school, it would save £30m a year.
The review took evidence about children walking to a school bus stop.
It said persistent concerns were raised about the vulnerability of children in the winter, in early mornings or evenings and when wearing dark school uniforms.
In November, eight-year-old Adam Gilmour was knocked down and killed on his way to a bus stop in Cloughmills.