Ten face Francis McPeake intimidation charge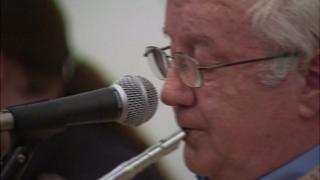 Ten people are to be prosecuted over claims they forced a traditional Irish musician to flee his Belfast home, it has emerged.
Francis McPeake, 72, was cleared in September of sexually abusing a 15-year-old girl. The alleged intimidation happened a year before.
Six women and four men are charged with intimidating him to leave his house through force, threats or menaces.
Eight of them are also accused of riotous assembly.
A preliminary investigation hearing is to be held in February to establish if any of them has a case to answer.