Alert at Omagh County primary school ends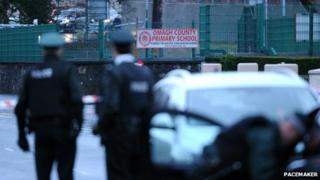 A security alert at a primary school in County Tyrone has ended after police declared it a hoax.
Pupils of Omagh County PS, Campsie Road, were taken to Omagh High School after reports a suspicious object had been left in the area.
Campsie Road, which was closed by police during the alert, has now reopened.
Insp Keith Hicks said it had caused "huge disruption" to pupils, staff, parents and members of the public.
"Police take all precautions to ensure the safety of the public and I would like to thank anyone affected by the alert today for their patience whilst officers searched the scene," he said.