On The Runs inquiry: Tony Blair summoned to be questioned by MPs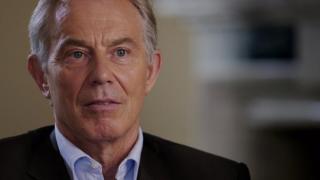 Tony Blair has been summoned to appear before a House of Commons inquiry to be questioned about how his government dealt with paramilitary suspects.
Last month, the Northern Ireland Affairs Committee complained the former prime minister in effect had "refused" to appear before the inquiry in person.
It wants to question him about his government's On The Runs (OTRS) scheme.
Under the scheme, letters were issued to more than 200 paramilitary suspects, saying they were not wanted by police.
The scheme was set up in 1999 but only came to public attention earlier this year when one of the letters caused an IRA bomb trial to collapse in London.
Following public outrage over the case, the House of Common's Northern Ireland Affairs Committee (NIAC) set up its own inquiry into the operation of the OTRS scheme.
In a statement on Wednesday, the committee said it has written to the former prime minister to summon him to give evidence to the inquiry on 14 January.
In his letter to Mr Blair, NIAC chair Laurence Robertson told him they had discussed his "continuing lack of response" to the committee's invitation for him to give evidence "on a date and at a time of your choosing".
"The committee was particularly disappointed at a lack of response since its members have noted that you have been in the UK regularly over the past few weeks, but you have not been able to find and hour or so to meet us.
"The committee felt that this was extremely disrespectful to the House," the chair added.
Committee member Kate Hoey MP said following the summons, she would be surprised if Mr Blair did not respond on Thursday.
"He is central to our On The Runs inquiry, which has been very wide-ranging and in public, unlike Lady Justice Hallett's report, it was held in secret."
"We want to know what Tony Blair's involvement from day one was and how much he felt the whole On The Runs issue should be kept secret," Ms Hoey added.
Last month, Mr Robertson complained publicly to the Commons Speaker that Mr Blair "in effect has refused" to appear in person at the inquiry.
At the time, Mr Blair's office issued a statement, saying the former prime minister was in "ongoing correspondence with Mr Robertson about the committee's request".
In February, County Donegal man John Downey was to go on trial charged with killing four soldiers in the 1982 IRA Hyde Park bombing.
However, the judge ruled the prosecution could not go ahead because Mr Downey had received a government letter in 2007 saying he was not wanted for questioning by any UK police force.
Mr Downey had denied murdering Roy Bright, Dennis Daly, Simon Tipper and Geoffrey Young and conspiring to cause an explosion. The judge ruled his arrest and prosecution was an abuse of process.