RQIA: Watchdog finds stroke care access inconsistencies across health trusts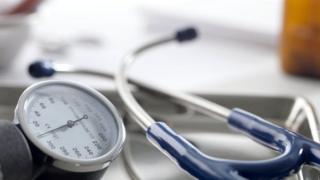 Services for stroke patients in Northern Ireland could benefit from an improved regional approach, a health regulator has said.
The review by the Regulation and Quality Improvement Authority (RQIA) said the approach would ensure equality for patients in every health trust.
RQIA found inconsistencies in access to the level of service.
Every day about 11 people in Northern Ireland are admitted to hospital with a stroke or mini stroke.
While one third will make a full recovery and the same number die in the first month, the rest will be dependent on others.
Considering the demand, the standard and availability of services is vitally important.
According to health regulators the RQIA, accessing the likes of imaging, clot-busting, speech and physiotherapy services differed in all trusts during out of normal working hours.
They also found those patients who were admitted to non-dedicated stroke units, as no appropriate beds were available, received a less comprehensive standard of care.
'Recommendations'
While stroke teams were found to be committed and enthusiastic, the regulators made 22 recommendations including an improved regional approach which would ensure equality for all patients across each of the five health trusts.
The RQIA Chief Executive Glen Houston said while much progress has been achieved since the implementation of the 2008 Regional Stroke Strategy with the health and social care trusts, further work is required.
"While much progress has been achieved, further work is required in the implementation of a number of the strategy's recommendations."
The team identified that while some regional protocols for service delivery are in place, the service could benefit from an improved regional approach and the development of a regional managed clinical network.
"While most patients were admitted to stroke wards, some were initially transferred to other wards due to bed capacity pressures. In cases where stroke patients were placed in outlying wards, their level of care and rehabilitation was not always as comprehensive as that received in a dedicated stroke unit."
The review team also found differences in access to services in all trusts during out-of-hours periods.
They recommended that trusts should consider working further with voluntary organisations to benefit stroke patients.