NI Water: Majority of business customers to see their bills reduced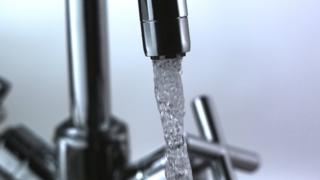 A majority of business customers will see a reduction in their water bills, after the Utility Regulator set revenues for Northern Ireland Water for the years ahead.
The ruling , known as PC15, also calls for NI Water to improve its efficiency.
PC15 runs from next April until 2021 and sets out the money the government-owned company requires and is allowed to charge.
The Utility Regulator said "most will see reductions" from the ruling.
Stormont provides a subsidy to NI Water in the absence of charging domestic customers.
But 90,000 non-domestic customers are billed for water and sewerage services.
'Improve service'
It said this could equate to an average £45 for small businesses over the six-year period, to £357 for larger businesses.
The ruling set NI Water's revenue requirements for the period at £2.34bn.
The figure is £89m less than the company had hoped for.
The Utility Regulator said £1bn of revenue would be invested in work projects, like the mains between Cookstown and Strabane.
An NI Water spokesman said: "We have worked with the Utility Regulator to propose a way forward which allows us to continue to improve the service to customers.
"We look forward to providing our response and will continue to engage with the Utility Regulator and other stakeholders in a constructive manner."