Rory McIlroy: No evidence of conspiracy, Dublin hearing told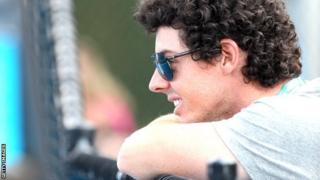 There is "not a shred of evidence" Rory McIlroy was involved in a conspiracy to plan his exit from a contract with his former sports management company, Dublin High Court has heard.
Counsel for the golfer said such a claim by a lawyer for Horizon Sports Management and two other companies was "inherently implausible".
Horizon Sports Management wants orders from court for further disclosure.
These include for documents and the inspection of electronic devices.
Mr McIlroy, who first signed the representation agreement in December 2011, signed a third agreement with Horizon in March of 2013.
That agreement was shortly afterwards repudiated by Mr McIlroy who then brought legal proceedings.
His counsel said Horizon's application to court for the right to forensically inspect the phones held by Mr McIlroy over a three-year period had effectively been dealt with during another hearing earlier this year seeking disclosure of documents.
This latest application was "dressed up" as seeking inspection of phones when it was in fact an application for further and better discovery of documents previously dealt with by Mr Justice Peter Kelly in July, counsel said.
Horizon has claimed Mr McIlroy and others close to him deliberately wiped data on their phones that could be relevant to the case.
Mr McIlroy is suing Dublin-based Horizon, along with Gurteen Ltd, with a registered address in Malta, and Canovan Management Services, also based in Dublin, claiming the representation agreement is unenforceable on grounds including alleged undue influence.
He claims he was just 22 at the time with no business experience and without the benefit of legal advice.
Rory McIlroy Inc
The defendants deny the claims and have counter-claimed for some US$3m allegedly outstanding under the agreement for off-course revenues.
Counsel for the defendants said at the opening of the hearing that the March 2013 agreement had barely been signed when Mr McIlroy had set up his own sports management company, Rory McIlroy Inc.
His personal assistant Sean O'Flaherty left Horizon to work for the new company as did Donal Casey who later became CEO of Rory McIlroy Inc.
It was part of Horizon's case that Mr McIlroy and a number of others were instrumental in bringing about the unlawful attempt to repudiate the contract, the counsel said.
Despite the existence of legal proceedings, Mr McIlroy, his father Gerry, Mr O'Flaherty and Mr Casey destroyed relevant data on their mobile phones by "factory resetting" them, counsel also said.
On the second day of the defendants' application to inspect those people's phones and seek better disclosure, the counsel for Mr McIlroy said the application was "wholly misplaced" and should be refused.
Mr McIlroy had done nothing wrong and Horizon's criticism of him was wholly misplaced.
It was criticism "made against a backdrop of an allegation of conspiracy that he planned his exit from Horizon for which there is not a shred of evidence", counsel said.
In reply, counsel also for the defendants, said there had been significant destruction of data and this was not an inference or speculative assertion.
The hearing continues.