Parties deny breaking an agreement not to negotiate over parades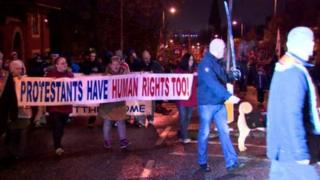 The two main unionist parties have denied they had broken pledges they made on parades discussions in the inter-party talks.
On Monday, the TUV, UKIP and PUP pulled out from the joint unionist response.
The three parties said the DUP and UUP had broken an agreement not to negotiate over parades with other parties until the impasse was resolved.
DUP MP Jeffrey Donaldson said his party had "honoured" the commitment they gave.
In July, five parties announced a "graduated response" in protest at Parades Commission restrictions on a 12 July march in north Belfast.
The parade has been barred from returning along a part of the Crumlin Road that separates Protestant and Catholic communities.
Ulster Unionist leader Mike Nesbitt said his party had not negotiated on parades at any stage during the current talks.
"We have attended sessions because I think it's better to be aware of what others are discussing in terms of all the issues that are up for debate."
TUV leader Jim Allister and UKIP assembly member David McNarry said in a joint statement that "the actions of the DUP and UUP have left us with no honourable option".
They said the refusal of unionist participation in inter-party talks on the subject of parading while the stand-off continued was "central to the credibility of any 'graduated response'".
"There cannot be a united response on the issue of parading when some parties engage in discussions with republicans on the issue while keeping fellow unionists in the dark about the fact that these discussions are taking place, never mind the substance of them," they said.