A5: Martin McGuiness says Irish government is to review funding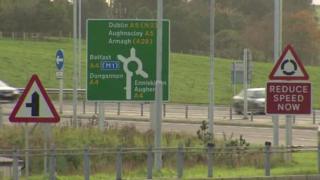 The Irish government is to review its decision to withdraw £400m funding for a major road upgrade in Northern Ireland, Martin McGuinness has said.
He told Stormont MLAs he believes progress can be made on A5 Londonderry to Aughnacloy project after last week's North South Ministerial Council talks.
The Irish government was to pay almost half the original cost of the upgrade but withdrew its funding offer in 2011.
The project stalled again in 2013 due to a ruling by the High Court.
The court ruled a full environmental assessment had to be carried out on the dual carriageway scheme that would link Dublin to the north west of Northern Ireland.
'Optimistic'
On Tuesday, Mr McGuinness told the Northern Ireland Assembly those assessments are on track.
The deputy first minister said he was optimistic about the Irish government's backing for the A5.
"I have to say we had a very, very useful discussion with the taoiseach [Irish prime minister] about the A5 funding and I thought that it was a very positive development that he specifically mentioned the A5 at the press conference following the meeting and again reaffirmed his government's commitment to the scheme.