Rory McIlroy 'wiped important data from electronic devices', court is told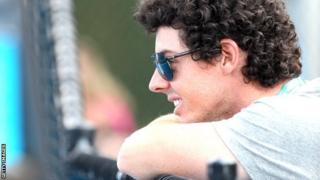 A court has been told Rory McIlroy deliberately wiped clean up to eight electronic devices that may have contained important data relating to his legal action against his former management firm.
Their lawyers said the "factory resetting" was also done to the devices of three other key figures in the case including his father Gerry.
They described this as "incredible".
Horizon Sports Management wants orders from court for further disclosure.
These include for documents and the inspection of electronic devices.
Senior counsel for Horizon told the High Court in Dublin his clients had to bring the application because Mr McIlroy had refused or failed to respond to requests for better disclosure.
He said Rory McIlroy and three others close to him had also wiped their devices before passing them on to others or to charity.
Mr McIlroy, in an affidavit sworn in Palm Beach, Florida, on Monday night, said he has already provided significant amount of detail for the case, in compliance with a previous court order.
He said he had not been advised it was necessary to back up material before factory resetting his phones, which he changed regularly to have the most up-to-date model.
He used the internet-based "Icloud" storage system to transfer material from one phone to another, but he factory reset the phones before changing them to preserve his privacy and to avoid unsolicited calls from journalists.
Mr McIlroy is suing Horizon, along with Gurteen Ltd, with a registered address in Malta, and Canovan Management Services, also based in Dublin, claiming a representation agreement signed by him in December 2011 is invalid and unenforceable on a number of grounds including alleged undue influence.
The defendants deny the claims and have counter-claimed for around £1.9m (US$3m) allegedly outstanding under the agreement for off-course revenues.
The senior counsel said Mr McIlroy had given no satisfactory explanation for the destruction of electronic data on his devices.
He said it may be possible to recover some of the information sought or other information of assistance to the case.
He added that it was a very serious matter for the administration of justice where someone involved in court proceedings had failed to preserve material.
Mr McIlroy had initially claimed he changed his devices regularly because of his "transient lifestyle".
However on Tuesday, he stated he changed them to avoid phone calls from journalists, the court was told.
The defendants believe he could not have changed phones and devices without backing up data and conversations, because it would mean, for instance, ongoing conversations about who would be on the Ryder Cup team would be wiped.
Commission
Earlier, the senior counsel said difficulties over the December 2011 agreement arose "when the ink was barely dry".
Mr McIlroy had set up his own company called Rory McIlroy Inc essentially to manage himself which was resisted by Horizon.
Around the same time, key figures who had worked for Horizon, including Mr McIlroy's personal assistant and a consultant, started working for the golfer's new firm, counsel said.
Senior counsel for Horizon said the amount of lost commission to his clients is now estimated at £5.7m ($9m).
Mr McIlroy, in his claim, says Horizon charged commission "many times greater" than is standard in the sports agency industry, including one agreement in which he must pay 20% of his sponsorship and 15% if the contract is renewed after 2017.
He also alleges that Horizon is not entitled to be paid certain fees into the future related to his £12.7m ($20m) a year sponsorship deal with sportswear giant Nike.
He says he has paid more than £4.3m ($6.8m) to Horizon based on commission rates of some 5% on his pre-tax on-course earnings and 20% for off-course.
He says this agreement was entered into when he was 22, with little business expertise and without the benefit of legal advice. The defendants say he freely entered the agreement.
The defendants are also seeking material from phones held by Donal Casey, former Horizon consultant and now CEO of the golfer's own management company Rory McIlroy Inc, the golfer's personal assistant Sean O'Flaherty and Mr McIlroy's father.
"It is beyond dispute, in our submission, that data has been deliberately destroyed," the counsel for Horizon said.
Senior counsel, for Mr McIlroy, said he wanted to make it clear his client had done nothing wrong. He said there was nothing unusual in him having a number of phones over three years, or for him to change his number to protect his privacy.
He did the most basic amount of transferring material from one phone to another and deleted the remainder "which is what we all do", counsel said.
The material involved all pre-dated the legal proceedings, counsel added.
To assert there was some sort of conspiracy between Mr McIlroy and others in the case "bore no scrutiny", he said.
The hearing continues.