Seven arrested at Chinese takeaways in illegal worker inquiry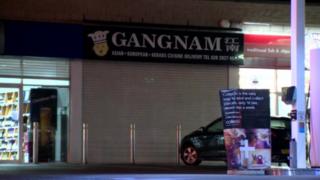 Seven people have been arrested by Home Office officials at two Chinese food outlets in County Antrim.
The business owners face fines of up to £100,000 if it is proven that they knew they were hiring illegal workers.
Officials from the Home Office Immigration Enforcement team targeted takeaways in Monkstown and Larne.
The seven people arrested are in Home Office detention, pending their removal from the UK.
Two men and a woman, all originally from China, were arrested at the Spring takeaway on the Jordanstown Road in Monkstown.
Another two Chinese men, who were found not to have permission to work in Northern Ireland, were escorted from the premises.
They have been temporarily released while their cases are examined.
The second operation was at the Gangnam takeaway on the Old Glenarm Road in Larne.
Two women and two men, all Chinese, were arrested on suspicion of a range of immigration offences.
Both businesses were served with a warning that a civil penalty of up to £20,000 per illegal worker would be imposed unless proof is provided that the correct right-to-work checks were carried out, such as seeing a passport or Home Office document.
Mike Golden of the Home Office's Northern Ireland Immigration Enforcement Team said the arrests were a "clear warning to those abusing our immigration laws".
"Employers who use illegal labour are defrauding the taxpayer, undercutting genuine employers and denying legitimate job hunters work," he said.