Taggart Group 'often in financial messes', court hears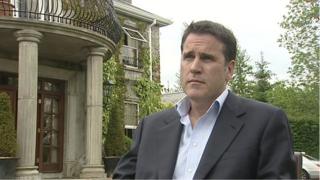 A director at the Taggart construction group believed it was regularly getting itself into "financial messes", the High Court has heard.
Brothers Michael and John Taggart are suing the Ulster Bank for damages after they lost their business empire in the 2007 property price crash. The bank is counter-suing the pair.
The court also heard that an internal email advising bosses to forget about taking a £1.1m bonus showed the business was not under control.
Counsel for the Ulster Bank focused on a series of internal Taggart emails, sent around the beginning of May 2007, about bids for land in the Republic of Ireland.
'Ship-shape'
In one, the firm's managing director and financial director at the time questioned any offers being made without the board's approval.
Maurice McHugh was said to have stated: "I think this issue highlights why we get into the financial messes that we get into on a regular basis."
A barrister for the Ulster Bank read out a further message that included the comment: "We had enough of this nonsense last year in the south."
Mr Taggart said that it was just a reference to what could happen if projections and targets were not followed properly.
He was pressed further on his former colleague's thoughts at the time on sharing £1.1m in bonuses among five directors.
The court heard Mr McHugh had stated: "I think we can forget about that for a while until we have everything ship-shape and back under control again, which could take a few months."
Mr Taggart said he had no memory of the episode, but suggested it was a reference to a busy period of work on refinancing and acquisitions.
The barrister put it to him: "Your business wasn't in control, isn't that correct?"
Mr Taggart said Mr McHugh's view was being taken out of context.
"I never thought of a bonus; I'm not sure even if I would have taken it," he told the court.
"If I had I might have re-invested it."
The case continues.