Cinemas help make films accessible for people with autism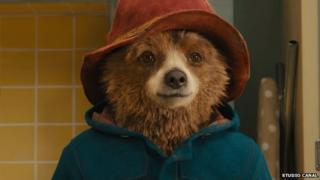 Over the Christmas season many families will make trips to restaurants and the cinema to see the latest releases like Paddington.
But it is not an easy experience for many of the 1,300 children in Northern Ireland who are diagnosed as being on the autistic spectrum.
Loud sounds, bright colours, being in a dark room and having to sit still can be a struggle that can make what seems like a routine family trip an anxious affair.
On Sunday morning, Thomas McClinton, nine, from Lisburn, went to the Odyssey cinema in Belfast to see an autism-friendly screening of Paddington with his parents, Paul and Paula.
He has been attending such screenings - which are typically held monthly - since 2011.
A number of other cinemas across Northern Ireland, as well as the Grand Opera House, host autism-friendly events, although they are often during the day meaning getting there is not always achievable.
"The lights are left pretty low, there's no trailers before the film," said Paula.
"The children are able to move about if they need to."
As autism exists on a broad spectrum, no two people with the condition will necessarily react the same way.
Paula explained how some public settings pose a problem for Thomas.
'Visually sensitive'
"Going to a restaurant for Thomas would be difficult with such things as background music and chatter, which most people would filter out without thinking about it.
"For Thomas that's very overwhelming so it's something we just don't put him under the stress of going to.
"Thomas is very visually sensitive. So at Paddington, today, the volume is lower there are no big loud noises, the lights are up so he can see around him and it makes the environment very safe for him."
Parents are allowed to bring their own food as well in case their children have particular needs.
But popcorn is still on the menu for Thomas.
"Thomas finds life on a daily basis can be very difficult for him. He's a very sensitive, very emotional child. He struggles day-to-day with very normal things that other children would find very normal like going to school.
"He's very structured in his routine, he needs to know what happens on a daily basis so he can work out in his mind what's going to happen."
As the Paddington movie starts, the volume is noticeably turned down, the lights are on and many children in the crowd of about 30 run around playing and saying hello to other cinema goers.
The parents, too, are on the move the whole time to keep a watchful eye. But, unlike other situations, there is no need to explain why.
Thomas himself is happy to sit still but has plenty of questions, such as why the villainous character of Millicent - played by Nicole Kidman - was being bad and when would she start being good?
Often the questions are about the logic of what is happening on screen.
A favourite scene for the audience involved Paddington flooding the entire house of the Brown family.
"It was very relaxed," said Paula.
"You can tell the kids are comfortable in that environment. The parents feel safe as well, because they know they don't have to constantly chastise their children to sit down, they can walk about freely."