Apprentice Boys of Derry stage Lundy's Day parade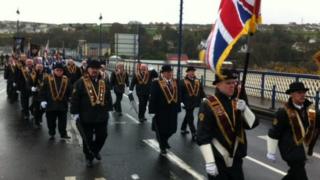 More than 1,000 people have taken part in the annual Lundy's Day parade in Londonderry.
The event commemorated the 17th century siege of the city and was organised by the Apprentice Boys of Derry.
Accompanied by 30 bands, the marchers made their way through the city centre before attending a service of thanksgiving at St Columb's Cathedral.
Afterwards, in keeping with tradition, an effigy of Lt-Col Robert Lundy, known as Lundy the Traitor, was burned.
Apprentice Boys' governor Jim Brownlee said the success of Derry's year as the first UK City of Culture in 2013 underlined the growing respect for diversity.
"The legacy of that has to shine through," he said.
"We are hoping for a tolerant view from those who either don't understand the nature of the siege or indeed the nature of the Apprentice Boys."
The Siege of Derry lasted 105 days and more than 10,000 people died, the majority of them civilians.
The marchers commemorate an event known as the Shutting of the Gates - when 13 apprentices locked the walled city's gates against the approaching army of the Catholic King James II in December 1688.
Robert Lundy, who once held the title of governor of Derry, gained his reputation for treachery among unionists due to his offer to surrender to the Jacobite army five months later.
More than 300 years on from the siege, his name is still associated with those viewed as having betrayed the unionist cause.