Bertie Acheson: Widow has not returned to marital home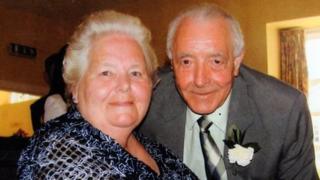 The widow of Coleraine pensioner Bertie Acheson has not returned to the marital home since her husband lost his life following a confrontation with a burglar, a court has heard.
Paul James Manolito Toland, 41, originally of The Cedars, Antrim, has pleaded guilty to the unlawful killing of Mr Acheson in April 2012.
The court heard Toland drove from his home to Coleraine with the intention of robbing Mr Acheson.
He is to be sentenced next Thursday.
Mr Acheson's death, the court heard, has had "devastating and ever-lasting consequences" on the family, especially his widow Sheila.
It emerged on Friday that Toland, a father of four, has 18 previous convictions for burglary - something that he did not disclose to his employers.
A defence barrister spoke of the "high level of remorse" shown by Toland and said that if his client could undo what happened, he would.
He told the court that Toland's intention was to take money from the top of the kitchen cupboard and that he never anticipated a confrontation.
He also said that when Mr Acheson collapsed, Toland "did not appeciate the extent of his medical condition" and that he did not realise this condition was "potentially life-threatening".
The lawyer said his client made no attempt to disguise his identity, and speaking of Toland's criminal record said that the last offending was 20 years ago.
The judge said he would sentence Toland - who was remanded back into custody - next Thursday.