Two babies have MRSA in Royal Jubilee Maternity Hospital, Belfast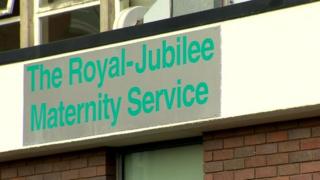 Two babies have contracted the hospital superbug MRSA at the Royal Jubilee Maternity Hospital in Belfast.
The Belfast Health Trust said all babies in the unit were being monitored but said "robust infection prevention and control measures are in place".
Methicillin-resistant Staphylococcus aureus (MRSA) is commonly carried on the skin of healthy people and humans, where it often causes no symptoms.
However, it can lead to an infection, particularly when it gets into a wound.
MRSA can be spread by skin to skin contact.
In a statement to the Irish News, the trust appealed to visitors to the maternity unit to help prevent the spread of infection by washing their hands when entering or leaving the unit.