Armagh city and 13 towns 'could lose all local bus services'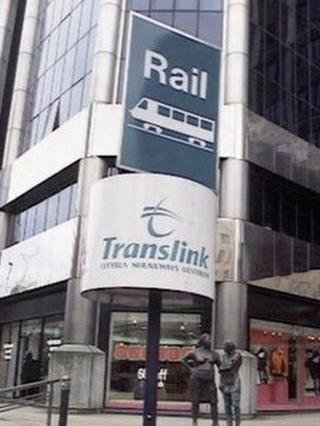 Local bus services in cities and towns across Northern Ireland could be cut drastically if draft budget proposals are agreed.
Armagh city and 13 towns could lose their urban services completely in the proposed cost-cutting exercise.
Local bus services in seven more towns could also be pared back.
In a statement, bus and rail operator Translink said it was facing a potential cut in government funding of £15m.
The cuts to bus and rail services, as reported in the Belfast Telegraph, are draft proposals, a spokesperson stressed.
In total, the Department of Regional Development (DRD) has been ordered to make savings totalling £65m in the budget laid out by Finance Minister Simon Hamilton in November.
It is understood the DRD is also considering selling some of its car parks, raising the price of public transport, disconnecting street lights and stopping repair plans for rural roads.
On top of the complete loss of local services in Armagh and 13 towns across Northern Ireland, services could be cut in seven other towns, under the proposals.
Antrim, Ballymena, Bangor, Dungannon, Lurgan, Portadown and Newry would be affected.
There are also plans to shelve the overnight bus services from Belfast to Dublin airport.
The Goldliner bus service may make fewer stops. Some Ulsterbus links between villages and towns could be cut.
Belfast Metro buses will be less frequent and train services will be reduced, particularly between Portadown and Newry and Whitehead and Larne.
A Translink spokesperson said the company was responding to potential cuts of about 20% in DRD funding.
She said withdrawal of services would focus on those routes which are used less frequently.
"No decisions have been taken and we note that the budget is still draft and at the consultation stage," the spokesperson said.
"We await the outcome of the current consultation process and the final implications on funding before any decisions are taken."
Transport Minister Danny Kennedy said: "DRD is facing cuts of around £65m to its budget for 2015/16 and as a result there could be reductions of some £15m in the total departmental funding to Translink.
"A draft budget consultation document for 2015/16 is currently out for public consultation.
"The impacts of the reduction on my budget have not been agreed at this stage, however the financial constraints are so great that there will certainly be very difficult decisions ahead."
Mr Kennedy said the key proposals to deliver savings in relation to public transport include:
Overall job losses of 160 staff, hopefully on a voluntary redundancy basis, reducing the pay bill by £5.7m;
Bus service reductions including withdrawal of town services across one city and 13 towns;
Efficiencies, including a reduction in the number of management, administrative and clerical staff employed;
Bus station closures and bus engineering reorganisation linked to service reduction and cessation measures;
Potential fare increases;
Rail service efficiencies including off-peak service reductions and potentially reduced frequency on the Larne and Newry services;
Other savings could total £3.4m.
Davy McMurray, lead regional officer for public transport with the trade union, Unite, said the proposals were "totally unacceptable".
"It is an attack on older people, the disabled, families with children and those who just cannot afford to run a car - all of whom are dependent on public transport to go to the shop, library or other essential services," he said.
Mr McMurray said he would be meeting Translink trade union members next week to discuss a response.
Translink recently reported a drop in profits for its 2013/14 financial year. The company's latest accounts show that in the year to 30 March, it recorded a pre-tax profit of £0.3m.
That was down from a comparable figure of £9.1m in the previous year.
Translink put the reduction down to a number of reasons including reduced funding from DRD for pension contributions.