Mark McGuigan and Darryn McCallion gun sentences reduced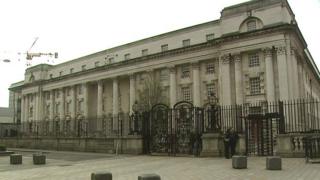 Two men stopped in a car with a loaded revolver have had their prison terms reduced by the Court of Appeal.
Judges dismissed Mark McGuigan's challenge to his conviction for having the gun with intent to endanger life, but cut his term from 12 to 10 years.
Co-defendant Darryn McCallion's original seven-year term is to be brought down to five years.
Both of them had been with another two men in a car intercepted near Omagh, County Tyrone, in October 2010.
The four were detained at night on the Gorticashel Road following a police surveillance operation.
A hold-all recovered from the car contained a reactivated .38 Webley revolver hidden in a sock. Assorted ammunition was also seized.
Adjustments to the firing pin would have been required for the gun to function properly.
McGuigan, 30, of Sperrin View, Omagh, was convicted at Belfast Crown Court in November 2013.
McCallion, 26, of Rathlin Drive, Londonderry, Martin McLoone, 26, of Abercorn Drive in the city, and 34-year-old Daniel John Turnbull, of Strule Park, Omagh, were also jailed after pleading guilty to the same offence.
Police had monitored the car's movements as it travelled to a forest to pick up McCallion and McLoone. One of them was carrying the hold-all.
Republican slogan
McGuigan, who was driving, allegedly tried to reverse when confronted with an unmarked police car with flashing lights.
It was claimed that he initially refused to get into the police vehicle, shouting "Tiocfaidh ar La" - a republican slogan that translates as "Our day will come".
During follow-up searches police also recovered a sub-machine gun and ammunition from another vehicle belonging to Turnbull.
During the appeal hearing, prosecution counsel submitted that the four men were on a clandestine operation for terrorist purposes.
But lawyers for McGuigan argued there was a realistic possibility he did not know the gun and ammunition had been brought into his car.
However, Lord Chief Justice Sir Declan Morgan, sitting with Lord Justices Coghlin and Gillen, held there was "a considerable case demonstrating that the appellant was acting in concert with the others".
He cited McGuigan's failure to give evidence or to explain how he ended up with the other three on the night of their arrest.
Despite dismissing the appeal against conviction, Sir Declan allowed the challenge to the 12-year sentence.
McGuigan was entitled to a two-year reduction due to delays in the trial and how he conducted his defence during the hearing, he held.
McCallion's jail term was also then reduced by two years.
Both men will serve half their periods in custody and half on licence.