Policing partnerships must 'prove their value'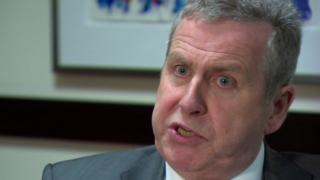 Policing and Community Safety Partnerships must prove their value and cut their administration costs, a report has said.
A study by the Criminal Justice Inspection (CJI) Northern Ireland looked at their governance, performance and accountability.
It found that 43% of the £5.5m provided each year for the partnerships (PCSPs) was spent on administration costs.
Brendan McGuigan of the CJI said that figure was too high.
"There's an average of 43% being spent on administration costs and if we compare that to the public sector generally, it would be 20%," he said.
"Actually in the voluntary and community sector it's even better, it's between 10% and 12%.
"So clearly, they are spending far too much money on the administrative costs. There has to be a change.
"Everyone who is receiving money from the public purse at the minute has got to prove their worth.
"They have got to show what added value they are actually bringing.
"For organisations like PCSPs to be spending this amount of money on admin is not acceptable."
He said that some PCSPs had "delivered successful projects and events while maintaining proportionate administration costs which have contributed to addressing local concerns around community safety".
"Inspectors, however, found other PCSPs have struggled to evidence their worth and demonstrate the added value they have brought to local communities," he said.