Gold company Dalradian Resources starts trading on LSE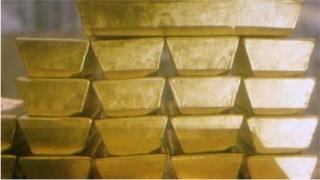 A Canadian company that is exploring the possibility of gold mining in County Tyrone has started trading on the London Stock Exchange.
The company has already raised £22m with a previous listing on the Toronto Stock Exchange.
Dalradian Resources has the mineral rights to more than 80,000 hectares in Northern Ireland.
This includes the Curraghinalt gold deposit outside Gortin.
Chief executive Patrick Anderson said: "The next step for us is to bring the opportunity to residents in Northern Ireland and the United Kingdom to buy shares and participate in the growth of the company. It's time to make it more local."
"Currently we are preparing the ground to go underground, we would imagine we could be in a production scenario in the next three to four years on something that currently shows a mine life of 18 years," he said.
Mining projects
"But we have not yet found the end of the deposit, it will continue to grow. There are gold deposits like this in Canada that have been in operation for more than 70 years."
Mr Anderson said "We have worked all over the world in mining projects and Northern Ireland has continued to surprise us, it's been a great place to work."
The company hopes to begin mining in the next four years with the potential to employ 300 people.
Dalradian has been working in Tyrone since early 2010 and has completed a number of exploration programs already.