Jack Kyle: Rugby legend 'possessed genius and goodness'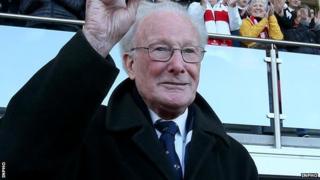 Jack Kyle not only possessed genius, but he also had goodness, mourners at a thanksgiving service for the rugby legend's life have heard.
His close friend, Colin Morris, told those gathered at Fisherwick Church, Belfast, that Jack Kyle stood up for his beliefs.
In more than 30 years when he worked as a surgeon in Zambia, he opposed racism and refused to ally himself to it.
"He made it clear exactly where he stood on the racial issue," he said.
"Although Zambia had become independent, there were still any number of sports clubs which were still hot beds of racism - they had no African members and their sports grounds were segregated.
"They were delighted that a world class sportsman had come into the area. He was inundated with requests to be patron.
"But he said he had no intention of having any association with any sports organisation that practised segregation.
"That made a tremendous impact and I realised that I had a powerful ally who then became a very close and dear friend."
Mr Morris said Kyle helped create a nation "right from the root by 1001 acts of service and of kindness".
"Zambia had Jack with them for over 30 years," he said.
"There he was in a small town in the middle of nowhere, thousands of miles from the sports commentators, television cameras and the adulation of the crowd.
"You realised that it wasn't the rush of adrenalin at great sporting occasions that drove him. What really drove him was the agonising sense of the need to be humanely useful to those in need.
"He had genius but he had something rarer than that, he had goodness. His solemnity was counterbalanced by that mischievous Irish sense of humour of his."
Jack Kyle died last week at the age of 88. He was regarded as one of Ireland's best ever rugby players.
He was a hugely talented fly-half who won 46 caps for Ireland and six for the British and Irish Lions.
In 1948, the Belfast man helped Ireland win the Five Nations Grand Slam for the first time and in 2002 was voted the greatest ever Irish player.
When his playing career was over, Kyle worked as a consultant surgeon in Chingola, Zambia.
He returned to Northern Ireland and spent his retirement living in Bryansford, near the County Down seaside town of Newcastle.
Kyle, appointed an OBE in 1959, will be fondly remembered as a modest man who was supremely gifted in the fields of sport and medicine.
He was a stylish number 10 whose reputation as a truly great player lived on long after he had hung up his boots.
In 2002, he was voted the best Ireland player of all time in a poll organised by the Irish Rugby Football Union.
A private funeral was held on Tuesday morning.