Michael Copeland suffering from depression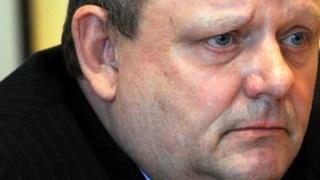 The Ulster Unionist Party says it is doing all it can to help its East Belfast MLA Michael Copeland and his family.
Mr Copeland told the BBC he is suffering from depression and tried to take his own life in September.
He has been absent from Stormont in recent weeks and says he is "unable to return at the moment".
On his attempt to take his own life, he said he was "in a dark and lonely place and I am lucky to have survived".
He said he noticed a change in his own mood and behaviour about two years ago.
The East Belfast politician said he became stressed and irritable and also started to forget things.
He said on one occasion, about 18 months ago, he found himself in a room and "I didn't know why I was there".
He found this discomforting and it "was as if my mind was somewhere else".
Treatment
He told the BBC the effect on his family in recent years has been "dreadful".
Referring to newspaper reports about his private life he said he did "not wish to comment on them".
The UUP assembly member confirmed that he was receiving treatment but claimed that "mental health provision in Northern Ireland subsists on starvation diet".
The MLA added that the "prescription of drugs does little to alleviate the problem".
In response to Mr Copeland's comments, a spokesman for the Department of Health said it provides funding for mental health promotion and suicide prevention in order to support people who are experiencing a crisis. The department said this included £6.5m on dedicated psychological therapies.
A spokesman for the Ulster Unionist Party said the party was "alive to its responsibilities and is doing all it can to help Michael, his family and all involved at this difficult time".