Gerry Adams: Loyalists threat to SF leader's life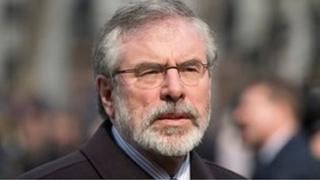 Sinn Féin leader Gerry Adams has said he has been warned of a loyalist death threat.
Mr Adams said he was told by the Police Service of Northern Ireland (PSNI) a threat had been made against him and other senior Sinn Féin figures.
He said the threats came "from someone purporting to speak for the outlawed loyalist paramilitary group the Ulster Freedom Fighters (UFF)".
Mr Adams used a social media account to break the news late on Saturday.
He tweeted: "Just been told by PSNI of death threat against me & SF leadership by someone claiming 2 speak 4 UFF."
Speaking on Sunday, he added: "This is a worrying development, but it will not deter me or Sinn Féin from moving forward with our campaign for a new, independent Ireland of equals."