Bro McFerran: NI 'not ready for corporation tax' says Allstate boss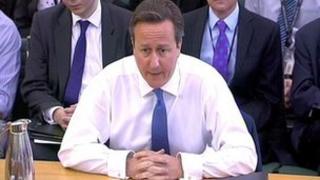 Leading businessman Bro McFerran has called into question the ability of politicians to deliver a lowering of corporation tax for Northern Ireland.
There have been indications that Chancellor George Osborne may make an announcement in his Autumn Statement on Wednesday.
The prime minister has said arguments made by politicians for devolving powers to Stormont were "strong".
The current rate paid by businesses in Northern Ireland is 21%.
However, the executive wants businesses to be able to match tax rate in the Republic of Ireland, which stands at 12.5%.
The managing director of insurance company Allstate NI, Bro McFerran, told BBC Radio Ulster's Inside Business programme that he is not convinced politicians in Northern Ireland are ready to take on corporation tax powers.
"Our Northern Irish politicians need to show that they can deal and resolve the existing issues before they get into the realms of corporation tax," he said.
"I think if we introduce something where we need much greater understanding and nuance and sophistication, I'm not sure those are words that we naturally associate with our Northern Irish politicians, and I think that is something that we have to be very careful about."
However, Eamon Donaghy of the lobby group Grow NI, said a lower corporation tax would make a real difference to Northern Ireland's economy.
He said: "In Northern Ireland, as a tail-end region both in the UK and Europe, we have to find a way of making ourselves more relevant.
"Lower corporation tax makes us more relevant, makes us more attractive and gets people to consider us as a place to invest in."
Inside Business was broadcast on BBC Radio Ulster at 13:30 GMT on Sunday and is available on the iPlayer.