Bangor minor injuries unit to remain open in cuts U-turn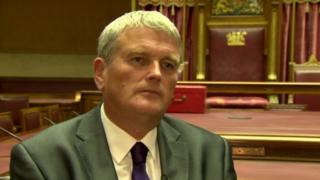 Health Minister Jim Wells has reversed a decision to close a minor injuries unit (MIU) in Bangor, County Down.
The Bangor facility was one of three MIUs earmarked for closure last month due to pressures on the health budget.
The proposed closure of Bangor, Armagh and Whiteabbey MIUs were among hard-hitting cuts to health and social care services across Northern Ireland.
However, Mr Wells has now said Bangor MIU will stay open to relieve pressure on hospital emergency departments.
'Greater demands'
MIUs treat injuries that are not life-threatening or critical and can deal with broken bones, burns, bites, wounds, minor head injuries and other less serious ailments.
The facilities help to take pressure off hospital A&E units, which should be reserved for seriously ill patients who require emergency care.
In a statement, the minister said he was "mindful that the winter months place greater demands" on A&E units and acute hospitals.
"I wish to avoid where possible adding to the numbers coming through the front door of these emergency departments," he added.
'Minimal savings'
Mr Wells said health trusts were in the "unenviable position of trying to find substantial savings within a very short timeframe" and added that many of the proposals they had come up with were "challenging".
"Bangor Minor Injuries Unit deals with about 10,000 attendances annually, and its closure would have offered up only minimal financial savings," the minister said.
"I have asked the South Eastern Trust to ensure the minor injuries unit at Bangor Hospital remains open. This will lessen the numbers attending other units including the busy Ulster Hospital emergency department."
A spokeswoman for the Department of Health said the decision to close Armagh and Whiteabbey MIUs still stands.