Robert and Conor McAleenan could be jailed for horse cruelty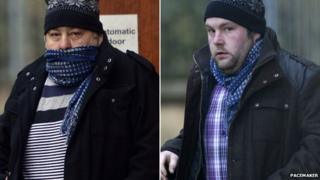 A judge has warned a father and son who admitted failing to properly feed and water 70 horses on their farm that they could be jailed for animal cruelty.
A court was told a vet and police found that nine of the animals were dead from neglect when they visited the farm.
Robert James McAleenan, 53, and his son Conor, 28, from Lisnevenagh Road, near Antrim admitted 16 charges of causing unnecessary suffering to the animals.
Most of the dead horses were found piled up on top of each other.
Antrim Crown Court was told they had been there for some time.
The surviving horses, which were to be slaughtered for food, were seriously malnourished.
Both men will be sentenced on Tuesday at Coleraine Crown Court.