Food banks: 'Rapid rise in demand' for emergency food parcels says Advice NI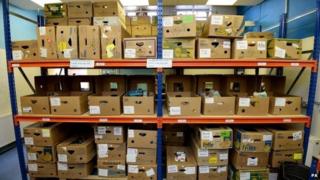 There has been a rapid rise in the amount of people in Northern Ireland seeking access to food banks, according to an advice organisation.
Advice NI said the number of food banks had increased from two in 2011, to at least 14 by 2014.
It said Northern Ireland's largest food bank charity, the Trussell Trust, has handed out more than 11,000 free food parcels this year.
The figures represent an increase of 489% on the previous financial year.
Advice NI's chief executive, Bob Stronge, said many people had "nowhere left to turn".
'Stigma'
"You have to be very desperate to go to a food bank," he said.
"Obviously, there is some stigma attached to that. People don't like to be reliant on handouts, but I think it is the nature of where we're at in terms of the economic situation that we face.
"Many approach advice services as they grapple with job loss, job insecurity, poverty, mental or physical ill health, debt and many more issues that are proliferating due to the recession and austerity measures."
'Terrible situation'
Mr Stronge said Advice NI had dealt with 270,000 inquiries mostly related to social security issues, and said the system was failing people.
"At least 16 organisations across Northern Ireland distribute emergency food and other goods on a regular basis.
"Fourteen of these identify themselves specifically as food banks, although they may also be engaged in distributing other goods such as clothes, toiletries and furniture.
"This is a terrible situation which needs to be understood and addressed."