Dalriada Hospital: Legal challenge to closure of MS respite unit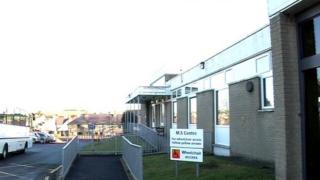 A woman has cleared the first stage in a challenge to the temporary closure of Northern Ireland's only dedicated multiple sclerosis respite centre.
The unit at Dalriada Hospital, Ballycastle, County Antrim, is to close until March next year.
It is part of widespread cuts being imposed across the health service.
On Thursday, Philomena McKay, 54, was granted leave at the High Court to seek a judicial review of the cuts.
Lawyers for Mrs McKay, who has suffered from the debilitating condition for 29 years, told the court she has used the Dalriada unit for several years.
Her legal team has based the challenge on claims that no proper consultation with staff and patients was carried out before the temporary closure decision was taken.
'Admission'
The judge said on that basis, that the case should proceed to a full hearing at a later stage.
Mrs McKay's barrister also told the court that a decision by the Northern Health and Social Care Trust blocking admission for any new patients should be lifted.
He said: "The minister has conceded those who are there at present will not be pushed out the door.
"Before we have a full argument, what's the difficulty in allowing new patients to be accommodated?"
The barrister for the trust said anyone requiring immediate care will be looked after.
'Scaled back'
"They will be provided with treatment they need at another location, perhaps not far away from this hospital," he told the court.
"The difficulty is there have been no new admissions for some time now. Staff have been scaled back."
The judge declined to impose an immediate order, but said the issue would be listed for a further hearing on 2 December.
More than 4,000 people in Northern Ireland are affected by MS, one of the highest rates in the world.